Reading app (working name)
This is an iPad and iPhone app for saving webpages and text snippets to read later, like a modern rethinking of Pocket or Instapaper as a first-class iOS app. When you find an article on the web you'd like to read without being sidetracked right now, save it in the app and come back to it at a better time. There's no need to make an account because everything happens right on your device.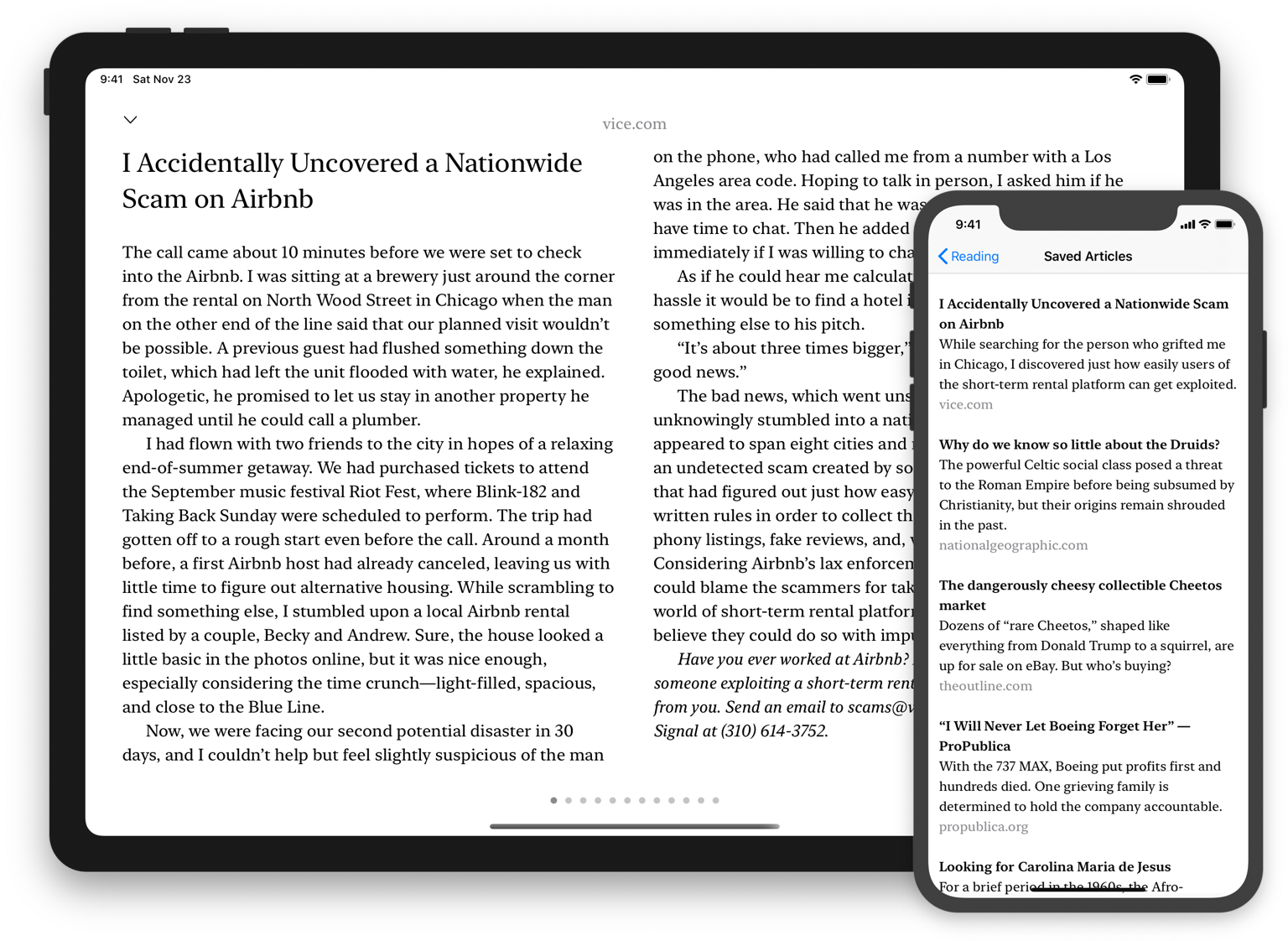 Saved articles are shown beautifully for a comfortable reading experience. Side-by-side pages mean you can focus on reading instead of scrolling. Multiple columns on iPad make effective use of the large screen and avoid long lines, which would be hard to read.
Sign up for the TestFlight alpha
This is an alpha testing release, so don't store any data you'd be sad to lose. I've only made the bare minimum of a functional app so far. All you can do is save, read, share, and delete. I'd love you to try it out and tell me if this makes any sense, and tell me what you think I should improve first.
Features
Saves webpages for offline reading.
Cleans up webpages, stripping out distracting parts so you can focus on the writing.
Saves any text snippet.
Shows multiple columns to make excellent use of larger screens and give a feel like a magazine or newspaper.
Uses your preferred Text Size from the Settings app, including large accessibility sizes.
Has an optional dark appearance for nighttime reading.
Is usable almost entirely from a hardware keyboard without touching the screen.
Has no online accounts. Saved articles stay private on your device.
Honours the reduce motion accessibility setting.
How to save articles
You can save a webpage from any app that shows the standard share sheet with a web link. Scroll to the end of the first row, tap More, and enable 'Save to read'. Then you can tap the yellow app icon in the share sheet to save the article.
On iPad you can also drag links into the list.
You can save any text the same way. Select the text, tap Share, and then 'Save to read' — or drag text into the list. This can be useful for long emails or to proof read your own writing.
Roadmap
Follow @_readingapp on Twitter for updates.
This app is still in its early stages. I'm quite pleased with the core reading experience but a lot needs to be created around that. The most important things I have to do are:
Add syncing between iPad, iPhone and Mac using iCloud. There will be no extra account or web service involved.
Improve the cleaning up and formatting of articles, so it always looks great.
Decide on a name for the app!
Known issues
Showing big articles may block the app for a long time.
The article list has loads of empty space to the left when multiple columns are used.
Some things are lacking adequate polish.